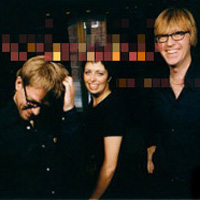 Three Blind Mice
The seeds for Three Blind Mice were sown in 1993. By that time two of the five owners of Tambourine Studios, Anders Nordgren and The Cardigans-producer Tore Johansson, had decided to put an end, not to their longlasting friendship, but indeed to their
songwriting cooperation (they had been composing for Divine Dennis). Anders went on to form his own band, teaming up with girlfriend Camilla Jonasson on drums
and her brother on bass.
In the autumn of 1996 the band began working on their first album "Roll out the carpet", which was released in 1997. It's a record crammed with rough distorted guitars and finely tuned harmonies mixed with varied and compelling refrains. The same year the slightly rougher "Supersongs" EP was released to wide critical acclaim.
United in their limitless love of sixties beat and seventies punk, Three Blind Mice capture a pop sound for the now with elegance and style. If Austin Powers held his birthday party in swinging Sweden
and needed an orchestra, Three Blind Mice would be the definite band for the job. The catchy choruses seem to be their trademark on songs like the debut single "Say a prayer", on "Baby boy", "Wrong man"
and many more.
All through 1997 and 1998 the trio gigged incessantly across Sweden and Denmark, and found out that it's quite possible to recapture the width of their recorded
sound, if enough guitar pedals and imagination is in stock! The band switched bassplayer in 1998 to teen mate Joakim Täck, and started recording their second
album which is planned for release in 2000.
Three Blind Mice are:
Camilla Jonasson - drums
Anders Nordgren - vocals and guitar
Joakim Täck - bass
Their music:
single
people in motion
fighting girl
the show
come on
Their releases:
single
Booking:
Kubi, tel/fax +45-35 36 80 11
Official Website:
http://threeblindmice@apricot-records.de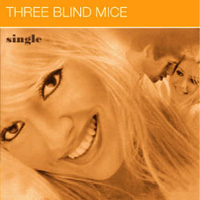 Three Blind Mice
single
Shop:
aprivin012
apricd013

"did you ever see such a sight in your life as three blind mice?" this is a line from a well known children's song. those were the days when being alone did not matter - most of time it did not even happen because there were always friends to come around and play with you. "single" seemed to be a foreign word; okay, we have grown up (a bit at least) and now we have experienced what "single" means - and that 7" singles are our only faithful companions during good and bad times.
"single", their first release on apricot records, comes as a 7"-single, limited to 800 handnumbered copies and a cdep - and is available for singles, couples and pets.


Tracklist:
1 single
2 people in motion
3 fighting girl
4 the show
5 come on