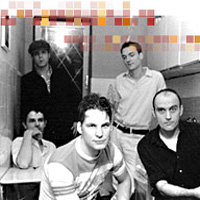 Superpunk
Of course, Superpunk do not play Punk music and don't think of themselves as being extremly super. Their music can be described as a swingy trash-beat with cute rhyming where the agile karate-kicks of Eric Cantona mix perfectly with the pipe-smoking
cleverness of Commissiar Maigret - just to name two important influences of the band. Of course there's a lot of tour-, music-, drinking- and life-experience in the band from other combos, because Superpunk's
team meambers played in the different and legendary bands "Fünf Freunde", "Die Regierung", "Stella", "Subway Surfer", "Huah!", "3000 Yen", "Sand 8" and
many more...
Superpunk are:
Carsten Friedrichs - Vocals, Guitar
Thies Mynther - Keyboards
Lars Bulnheim - Guitars
Tim Jürgens - Bass
Thorsten Wegner - Drums
Their releases:
a bisserl was geht immer
Booking:
Tom Produkt, marcel@tomprodukt.de
Contact them:
superpunk@apricot-records.de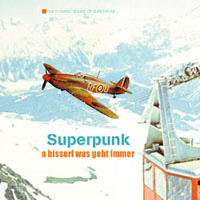 Superpunk
a bisserl was geht immer
Shop:

debut record release of the great superpunk from hamburg.
with members of fünf freunde, huah!, die regierung, stella, egoexpress...


Tracklist: