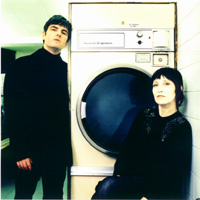 Birdie
Deborah Wykes and Paul Kelly met whilst taking sabbaticals as members of St. Etienne's band in 1994. Both had been writing their own songs and discovering a mutual love of The Shangri-Las and Love's "Forever Changes", formed their own band, BIRDIE. As a teenager Debsey moved from London to Cambridge and while at school formed Dolly Mixture with friends Rachel and Hester. They signed to Chrysalis Records soon afterwards and supported Dexy's, The Fall, The Jam and their heroes The Undertones. Dolly Mixture remain an acknowledged model and influence for many girl bands today, including Sleater Kinney and Chicks. Paul had been a guitarist with the now semi-legendary East Village. Part of the early Heavenly roster, they regularly toured with label mates Flowered Up and Manic Street Preachers. Their early records now fetch three figures in Japan and the U.S.
The first BIRDIE recordings were made on a portastudio until enough money was scraped together for Debsey and Paul to record in a small East London studio. The results included two songs, "Port Sunlight" and "Spiral Staircase", which impressed Jason Reynolds from Sub Pop who released it as a 7" in the States. Back in England, they signed to It Records and by late '98 Debsey and Paul were back in the studio recording the "some dusty".
The album "triple echo" has the same magic as a love poem: it will put a shy smile on your face and you will start humming along to the songs. songs of warmth and tenderness; music that gives you the same feeling as a whole day spend lying in bed.
Birdie are:
Deborah Wykes
Paul Kelly
Their music:
the original strand
such a sound
rosie's drugstore
sidewalk
poster
blue eyed son
silver line
twin i love you
monday
hammond
blue eyed son (reprise)
coda
such a sound
please rain fall
send a receive
silver line (reprise)
golden image
natural star
lift up the sun
shipwrecked
thirty dollar drum
theme from tired
linus (version)
Their releases:
triple echo
reverb deluxe
Booking:
apricot
Contact them:
birdie@apricot-records.de
Official Website:
http://www.birdiepop.com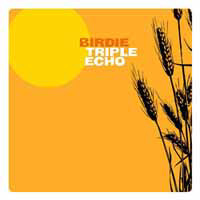 Birdie
triple echo
Shop:
aprivin026
apricd026

'mummy, daddy - it's luscious' is one of sadie's favourite phrases at the moment. sadie is a cute little girl growing up on the playgrounds and parks of northern london. besides spending time with her friends outside sadie likes listening to her parents playing music. sadie's parents are indie-P!O!P! legends paul kelly and debsey wykes who formed the band birdie a few years ago. birdie began when debsey (of early-'80s post-punk P!O!P! trio dolly mixture) and paul (of early-'90s indie-P!O!P! group east village) met as members of saint etienne's touring band. it was december 1992; the first concert that they performed together was the heavenly records christmas party. paul and debsey spent a lot of time on the road and in hotel bars in the subsequent months, touring with saint etienne through uk, japan and usa - and one day they decided to start their own band. they began writing songs together and paul who was living outside of london at this time came to debsey's flat to rehearse at least five times a week - and he took the train back home every evening. this went on for months and months - and then one fine evening paul and debsey came to discover that there was more than a work- ing relationship between
them. it was not love at first sight but it is very a passionate and creative one. birdie released the breathtaking debut album some dusty and a few beautiful singles - and of course their daughter sadie was born.


Tracklist:
1 the original strand
2 such a sound
3 rosie's drugstore
4 sidewalk
5 poster
6 blue eyed son
7 silver line
8 twin i love you
9 monday
10 hammond
11 blue eyed son (reprise)
12 coda


Birdie
reverb deluxe
Shop:
apricd031
aprivin031

Debsey told us about the extremely hot summer they had experienced in london and it was paul who said "please rain fall". we all laughed and were remembered of the classic track by the sea urchins. stories about sarah records were shared and when it was time for the both to leave we all agreed that this wonderful song simply needed to be covered. That's what birdie did - a few weeks after their tour with saint etienne they recorded a very personal and lovely version of please rain fall. together with other previously unreleased songs and long deleted b-sides this masterpiece appears on an album exclusively released via apricot records. it's a collection of warm and tender moments - songs you can put on in the middle of the night, a soundtrack for stepping outside to watch the stars.
the song natural star feels like a shy hug by someone you've fancied for years, the melody of lift up the sun glows and shimmers like a bracelet with diamonds. it's a wonderful record. and when the first days of autumn appear we'll take the songs as a remembrance of summer.


Tracklist:
1 such a sound
2 please rain fall
3 send a receive
4 silver line (reprise)
5 golden image
6 natural star
7 lift up the sun
8 shipwrecked
9 thirty dollar drum
10 theme from tired
11 linus (version)