Bazooka Cain
Founded by Marcel Vega (vocals, guitar) in 1989, after various members came and went, joined by Henry Grant (drums, percussion, vocals), Mathias Pacht (bass) and Max Knoth (guitar, vocals) in 1992. Erich Abel (organ) has been a member since 1999. The "eternally, young masters of stuffy pop music" know no haste. In 1996, a mere 7 years after their founding, they recorded their debut album, "Viele Grüße", released in 1998 on Elbtonal/Indigo. After an appropriate period of time "Here come the days of" is appearing on CD/LP on Apricot Records, as well as on CD in Japan on Quince Records.
"Here come the days of" is a collection of 16 great, soul-inspired songs from the let-loose dance tune "Frühling im Herbst" to the opulently overflowing "Allein". More than ever, the lyrics, in German, English and French, are best described by Olaf Schumacher's critique of "Viele Grüße" in 'guide berlin': "Vega is able to combine humor and melancholy, and that, let us be honest, is an something not everybody is capable of." With pleasure one remem-
bers young Michele Avantario's comment ("Szene Hamburg", 5/98), "With all those wonderful melodies, those swinging rhythms and, dare I say, a fluffyness in its performance this record is a medium sensation. "Sensation" I don't mind, but "medium??!? OK, but that's why from now on we say "Here come the days of." The days of Bazooka Cain, of course.
Bazooka Cain are:
Marcel Vega - vocals, guitar
Max Knoth - guitars, vocals
Erich Abel - organ
Mathias Pacht - bass
Henry Grant - drums, percussion, vocals

Their music:
frühling im herbst (2210 kb)
hauptsache gesund (3277 kb)
fürst-pückler-art (2376 kb)
fehlt dir was (1671 kb)
superschmoozer (993 kb)
schaf um schaf (1831 kb)
l'homme a la tete gonflee
am morgen (1667 kb)
here come the days (2206 kb)
tais-toi (2134 kb)
kurze fahrt (2015 kb)
i'm lost
komm mit mir (2910 kb)
one fine day (2689 kb)
allein (3510 kb)
Their releases:
here come the days of
Booking:
Tom Produkt, info@tomprodukt.de
Contact them:
bazooka-cain@apricot-records.de
Official Website:
http://www.bazooka-cain.de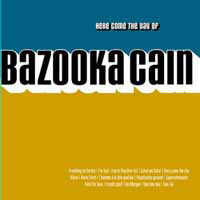 Bazooka Cain
here come the days of
Shop:
apricd025
aprivin025

here come the days of style, the days of elegance. cosmopolitan lifestyle, gentlemen taking polaroids of the cote d'azure and the italian riviera – or in other words: here come
the days of bazooka cain. their new recording here come the days is a collection of 15 soul-inspired tunes, every single one with a charming 60s touch, a surpreme remembrance of the 80s, and witty and amusing lyrics in german, english or french. sophistication and metropolitan glamour - the songs of bazooka cain capture humour and melancholy. a grand production with a string and brass orchestra creates moments of euphoria, while other songs appear like gloomy chansons by serge gainsbourg. here come the days of bazooka cain - days of laughter, days of sorrow, days of passion. we're talking about soul! real soul, ladies and gentlemen.


Tracklist:
1 frühling im herbst
2 hauptsache gesund
3 fürst-pückler-art
4 fehlt dir was
5 superschmoozer
6 schaf um schaf
7 l'homme a la tete gonflee
8 am morgen
9 here come the days
10 tais-toi
11 kurze fahrt
12 i'm lost
13 komm mit mir
14 one fine day
15 allein